The Sunny Gardener - September 2023
Mastodon v4.2.0 Upgrade
The big news this month was the release of Mastodon v4.2, which brings opt-in full text search, a reworked privacy settings screen, "exclusive lists" which allow you to follow somebody in a list without their posts showing up on your home feed, a new onboarding flow to guide new users, and a variety of other fixes and UI tweaks.
For more details check out the official announcement, or the full changelog on github.
sunny.garden was upgraded to v4.2 on September 22, and upgrade itself went relatively smoothly, with only some minor bumps.
Reception to the new version appears to have been generally positive, although there are enough changes that some things are bound to not suit everyone. Personally I'm disappointed by the removal of the ability to choose 16:9 cropped images on the web UI.
These are a sampling of the more interesting changes from the rather lengthy change log:
Add full-text search of opted-in public posts and rework search operators
Add "Privacy and reach" tab in profile settings
Add exclusive lists
Add new onboarding flow to web UI
Fix filters not being applying in the explore page
Fix being unable to load past a full page of filtered posts in Home timeline
Fix hashtag posts not being removed from home feed on hashtag unfollow
Media upload size limits have increased:
Image Upload size: 10 MB to 16 MB
Video Upload size: 40 MB to 99 MB
And some of the UI tweaks for users of the web UI:
Add lines to threads in web UI
Add display of out-of-band hashtags in the web interface
Change hashtags to be displayed separately when they are the last line of a post
Change reblogs to be excluded from "Posts and replies" tab in web UI
Change interaction modal in web interface
Change "direct message" nomenclature to "private mention" in web UI
Change local and federated timelines to be tabs of a single "Live feeds" column
Change label from "For you" to "People" on explore screen in web UI
Remove 16:9 cropping from web UI
Last but not least, a fix I'm sure that American users will be relieved to see:
Change 'favourite' to 'favorite' for American English
Summary
Things are still cooling off after the last spike in new users, and overall activity has remained fairly level this month.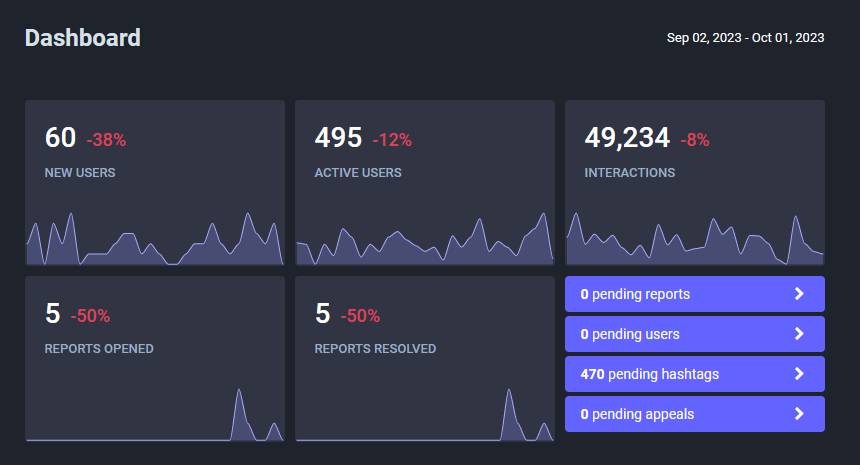 Hosting Costs
No unusual expenses this month, yay!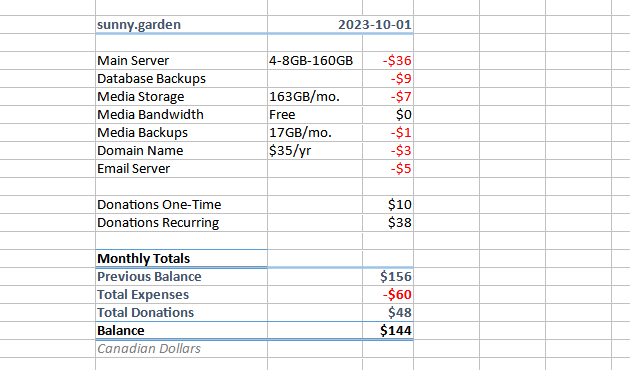 Expand Hosting Costs

| sunny.garden | | 2023-10-01 |
| --- | --- | --- |
| Main Server | 4-8GB-160GB | -$36 |
| Database Backups | | -$9 |
| Media Storage | 163GB/mo. | -$7 |
| Media Bandwidth | Free | $0 |
| Media Backups | 17GB/mo. | -$1 |
| Domain Name | $35/yr | -$3 |
| Email Server | | -$5 |
| Donations One-Time | | $10 |
| Donations Recurring | | $38 |
| Monthly Totals | | |
| Previous Balance | | $156 |
| Total Expenses | | -$60 |
| Total Donations | | $48 |
| Balance | | $144 |

Canadian Dollars
Thank you, to everyone that has donated on ko-fi! There's no obligation or expectation that you donate in order to use the server, and I'm able to cover the costs myself if needed.
– Brook