The Sunny Gardener - May 2023
Spam
The beginning of May brought the first major spam waves since sunny.garden has been online, which you can read more about here.
Things were dealt with pretty quickly, and have since quieted down. It's reasonable to assume that we'll continue to encounter bursts of spam as the fediverse grows and spammers try out new ways of doing their thing.
Hardware Upgrade
On May 15th I upgraded the disk storage on sunny.garden from 80GB to 160GB to accomodate the growing size of the database, which is currently setting at 30GB. Total disk usage had reached about 80% before the upgrade, and I wanted to make sure there was still plenty of space for things like running backups. I'd expect the newly expanded disk space to be sufficient for the next year or two.
Going forward this is going to cost about $20/mo. more, $8 for the extra disk space, $9 for the extra backup space, plus taxes. There's also an extra $10 for last month only, since I did the upgrade in the middle of the month.
Backup Cost
The extra cost for the backups is more than I expected, although in hindsight it makes sense. I'll think about dropping the automated daily backups in the future.
Wait just a second!, you say. Dropping backups seems like a bad idea! And you'd be right, however the server is currently being backed up in two different ways.
The entire server disk, which is everything except media files, is backed up by OVH's automated backups each day.
The media files, the database, and the Mastodon configuration files, are also backed up each day by my own backup scripts. These backups go to two different datacenters in the event that say, the server's datacenter burns down.
If the server does need to be restored from a backup, using the OVH disk image can bring the server back up and running in less than an hour, whereas reinstalling all of the software and restoring the configuration files and database would take me around 3-4 hours – I've checked!
So the OVH full disk image backups aren't strictly necessary, although redundancy is always nice. I'll give it some thought.
Server Shutdowns
home.social
On May 24th, mid-sized server home.social, with about ~6.2k active users, announced it would be shutting down 3 weeks later on June 16th.
Admin @admin@home.social

Everyone: home.social will close down on June, 16th 2023 23:59 CET. Please migrate your accounts in time to avoid losing content and followers. Thanks.

May 24, 2023, 05:45
As we've seen with some other instances, this seems mainly motivated by dissatisfaction with the experience of operating a server.
Ralf Rottmann @ralf@home.social
Thinking hard about closing down home.social. Moderation is becoming a nightmare. "Inter-instance-wars", too. Plus: Large instances might ultimately not be a good idea to begin with and defy the entire purpose of a fediverse.

May 10, 2023, 05:31
Succession Plans
home.social is moving ahead with shutting down in spite of several other server operators, myself included, reaching out with offers of assistance or willingness to assume operation of the server. To my knowledge, there was no response to any of those inquiries.
Many servers choose to adhere to the Mastodon Server Covenant – and are required to, if they want to be listed on joinmastodon.org. The covenant requires among other things, to give users 3 months warning if the server operator decides to shut it down, which is certainly better than nothing.
If you care about the long term use of your current Mastodon account, it might also be worth finding out what your server operator's plans are in the event they no longer have the interest (or time, or money) to run the server. Do they have someone ready to take over, are they willing to spend the effort to find such a person, or will they shut it down?
As far as sunny.garden goes, if I find myself no longer interested or able to continuing to run the server long term, I'll do my best to find another admin with similar values who is willing to take over operation before deciding to shut it down. Given that I already collaborate with a fair number of other admins who might fit the bill, I don't think this would be too difficult.
Summary
There are typically only a handful of moderation reports each month on sunny.garden, but May had 25 in total, 20 of which were a result of the spam incidents.
Other than that, active usage remained mostly stable.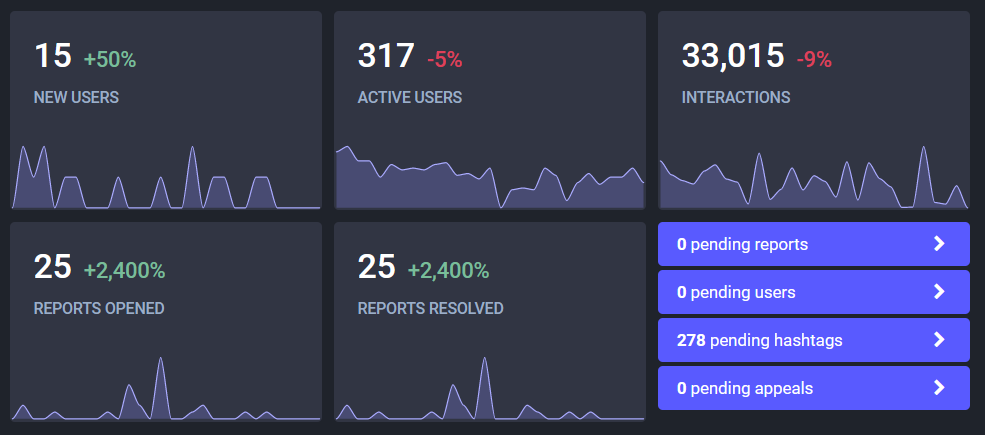 Hosting Costs
As mentioned above, the disk upgrade increased costs, this month in particular due to paying an extra half month. Next month's bills should be about $10 lower, possibly more depending on what I decide to do about backups.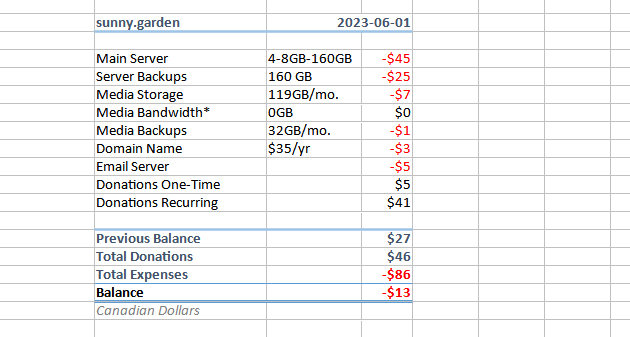 Expand text version

| sunny.garden | | 2023-06-01 |
| --- | --- | --- |
| Main Server | 4-8GB-160GB | -$45 |
| Server Backups | 160 GB | -$25 |
| Media Storage | 119GB/mo. | -$7 |
| Media Bandwidth* | 0GB | $0 |
| Media Backups | 32GB/mo. | -$1 |
| Domain Name | $35/yr | -$3 |
| Email Server | | -$5 |
| Donations One-Time | | $5 |
| Donations Recurring | | $41 |
| Monthly Totals | | |
| Previous Balance | | $27 |
| Total Donations | | $46 |
| Total Expenses | | -$86 |
| Balance | | -$13 |

Canadian Dollars

* Media files are served through a caching proxy with unmetered bandwidth, so external bandwidth charges are negligible.
Thank you, to everyone that has donated on ko-fi! There's no obligation or expectation that you donate in order to use the server, and I'm able to cover the costs myself if needed.
– Brook