In Review, March 2023
This month's post is rather late as I was busy with family visiting over the past few weeks! Many cherry blossoms were observed during this time.
Post Length Limit Increased
The default post length limit for the Mastodon software is 500 characters. Several people had inquired about whether I was open to increasing the limit on sunny.garden, usually because they had gotten used to the higher limits on another server.
I had no objection to increasing the limit, but this is not a configurable setting that Mastodon provides, so code patches are required to make it happen. I finally had the time to investigate what it would take, and found a post describing the changes required which were fortunately minimal and low risk.
The changes went live on March 8, increasing the post length limit to 1500 characters.
Server Shutdowns
Servers can shut down for all kinds of reasons, so it's a good idea to take backups of your account, following lists, etc. From the web interface select Preferences / Import and export. There are two main things you can backup from here:
Save the individual CSV files containing your Follows, Lists, Blocks, Bookmarks, etc… these can be imported into a new account if you need to create one on a different server. These need to be downloaded separately, they are not included in the posts and media archive.
Request an archive of all of your own posts and media for your own backup and reference, unfortunately it's not currently possible to import posts and media into a new account… anything you want posted to the new account will need to be re-posted manually.
Sunny Garden has no intention to shut down any time soon, and there are daily backups taken of the entire server and all of it's media, but you should always have your own backups of any data that's important to you!
mastodon.lol
On Feb. 10 mastodon.lol announced that it would be shutting down on May 9th.
While not technically offline yet, the server has been experiencing frequent downtime lasting hours or days.
Any remaining users are encouraged to migrate to another server as soon as possible.
masthead.social
An older (by fediverse standards) server with approximately 4K active users at the time, masthead.social may have gone offline as a result of a failed server migration.
uiuxdev.social
With around 1K active users at the time, uiuxdev.social "A community for web designers and developers" seems to have shut down without explanation.
stoners.social
Also with around 1K active users at the time, stoners.social was apparently shut down due to a billing mishap which led to termination by the server's hosting provider.
Pour one out (or light one up) for stoners.social…
Summary
Active users on sunny.garden appear to be levelling off around 330, which is about 30% of the November peak, but still 4-5 times higher than before the major influx.
Interestingly, the number of "interactions" (likes, boosts, replies, etc.) has been increasing lately even as active users remain mostly level, which is nice to see.
There were a couple of waves of new spam accounts being created on remote servers with unmoderated registration, which made up most of the reports for this month.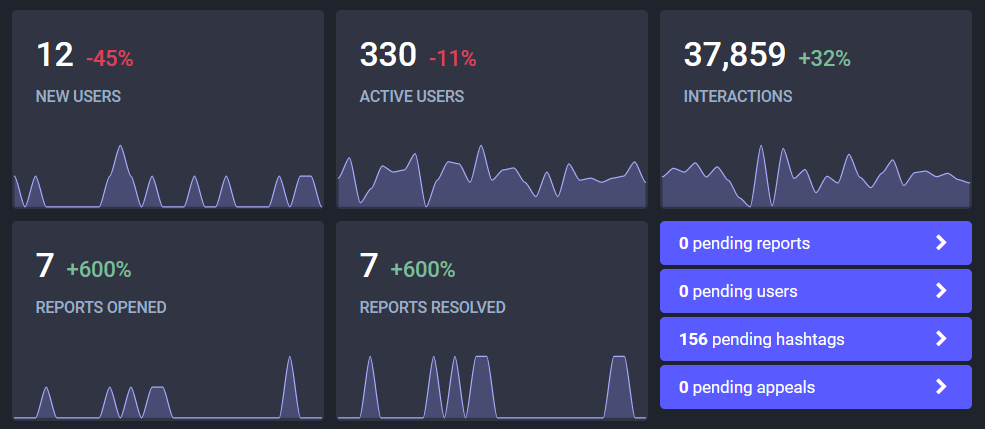 Hosting Costs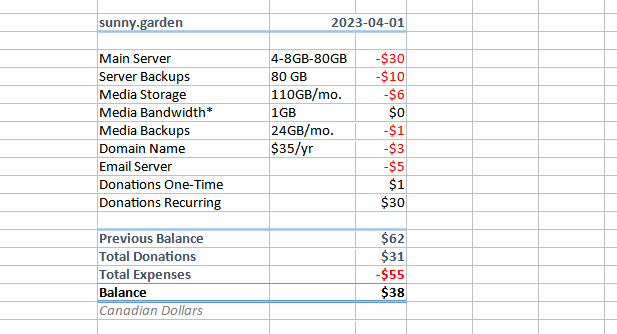 Expand text version

| sunny.garden | | 2023-04-01 |
| --- | --- | --- |
| Main Server | 4-8GB-80GB | -$30 |
| Server Backups | 80 GB | -$10 |
| Media Storage | 110GB/mo. | -$6 |
| Media Bandwidth* | 1GB | $0 |
| Media Backups | 24GB/mo. | -$1 |
| Domain Name | $35/yr | -$3 |
| Email Server | | -$5 |
| Donations One-Time | | $1 |
| Donations Recurring | | $30 |
| Monthly Totals | | |
| Previous Balance | | $62 |
| Total Donations | | $31 |
| Total Expenses | | -$55 |
| Balance | | $38 |

Canadian Dollars
* Media files are served through a caching proxy with unmetered bandwidth, so external bandwidth charges are negligible.
Thank you, to everyone that has donated on ko-fi! There's no obligation or expectation that you donate in order to use the server, and I'm able to cover the costs myself if needed.
– Brook