In Review, February 2023
Mastodon Upgraded
Mastodon v4.1 was released this month and sunny.garden was upgraded on Feb. 12.
A couple of small features were added for users:
You can now edit the image description and focus point on previously posted toots without having to re-upload the image.
You can view all of the hashtags that you follow by selecting the [...] menu on your own profile, and choosing Followed hashtags.
And a couple of important features were added for admins:
The ability to import and export the server wide blocklists through the administration interface. Previously this was possibly only by using 3rd party tools through the API.
The ability to clear out old cached header and profile images from remote accounts. Previously there was no officially supported way to do this, which could cause problems for small or personal servers as these images could easily consume dozens or even hundreds of GB of storage.
Server Shutdowns
mastodon.lol
On Feb. 10 mastodon.lol announced that it would be shutting down in 3 months time (May 9th).
The admin cited the toll of personal attacks as the reason for no longer wanting to continue operating the server. They have also decided not to pass operation of the server on to another operator.
At 16k active users, mastodon.lol is/was one of the top 20 Mastodon servers by user count, and that's quite a few people who will need to migrate to a new server if they decide to do so.
If you know someone with a mastodon.lol account who would be a good fit for sunny.garden, registrations are open and we have the capacity for plenty of additional users (not 16k… but hundreds at least)
mastodon.au
On Feb. 16, mid-sized Australia focused server mastodon.au (~6k active users) also announced that it would be shutting down, but shortly afterwards announced they would be passing operation of the server on to another admin instead.
The reasoning for the initial plan to shutdown was unclear, but seemed to come down to general dissatisfaction with the experience of running a server.
Summary
Active users continues to fall slightly, but there were more sign-ups this month than last, some of whom came over from mastodon.lol, and some found the server organically or through fedi.garden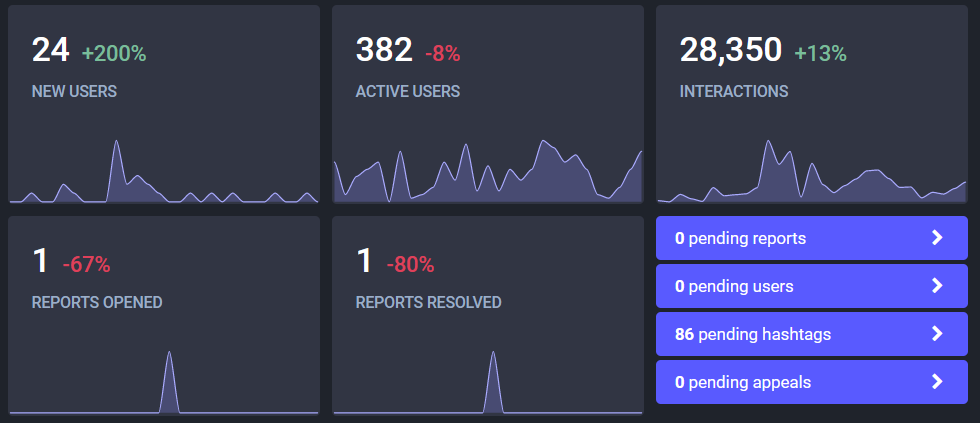 Hosting Costs
You may note that the charge for Media Bandwidth is quite small this month at only 10GB, compared to 250GB last month. I wasn't thinking about it at the time, but last month's upgrade to higher performance cloud storage actually ended up making media storage slightly cheaper, depending on how it's used.
The previous (considerably slower) storage plan billed all outbound traffic, but the new high-performance plan only charges for external traffic (leaving the datacenter), but all of the traffic for media storage is considered internal because it is being served by a caching proxy in the same datacenter.
Since the caching proxy has un-metered external bandwidth, all media traffic is free, we only pay for the storage itself.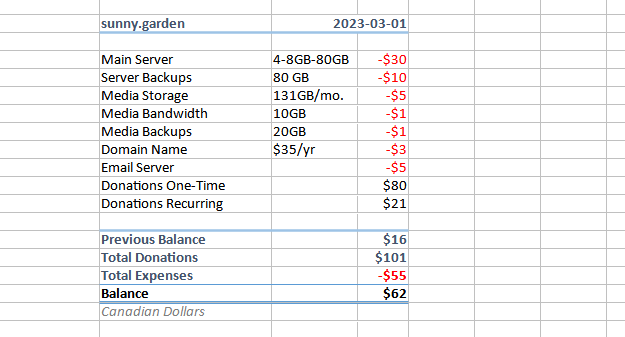 Expand text version

| sunny.garden | | 2023-03-01 |
| --- | --- | --- |
| Main Server | 4-8GB-80GB | -$30 |
| Server Backups | 80 GB | -$10 |
| Media Storage | 131GB/mo. | -$5 |
| Media Bandwidth | 10GB | -$1 |
| Media Backups | 20GB | -$1 |
| Domain Name | $35/yr | -$3 |
| Email Server | | -$5 |
| Donations One-Time | | $80 |
| Donations Recurring | | $21 |
| Monthly Totals | | |
| Previous Balance | | $16 |
| Total Donations | | $101 |
| Total Expenses | | -$55 |
| Balance | | $62 |

Canadian Dollars
Thank you, to everyone that has donated on ko-fi! There's no obligation or expectation that you donate in order to use the server, and I'm able to cover the costs myself if needed.
– Brook